White Golden Retriever Pups,English,AKC Certified,Holistic breeder,NJ,NY,PA,CT,MD,MA,DE,RI,CA,AZ,TX,NH,FL
Meet Our Handsome AKC Certified
English Cream Golden Retriever Sire,
e " Maximus"
Reservations now being accepted from qualified families for a gorgeous healthy puppy from our expected 2023 Breeding.
Plan ahead and reserve early!
We do our best to allow our Dam to become pregnant. However, Mother Nature has the final word
If Interested , please fill out the "Contact Us" for on my home page for a quick reply
Our outstanding English Cream "Maximus" has a Boxy head and short snout
and is our affectionate and handsome AKC Male Sire. All our Puppies are Holistically
and Homeopathically bred starting with the mother before birth, during gestation and after they are born.
Ask why we have no hip dysplasia, joint issues, heart, ear or eye issues.
Learning my 3-proprietary Holistic lessons will give your English Cream Golden Retriever
to have a fighting chance to live a much extended lifespan.
All families receiving one or more puppies will be taught Longevity .
A comprehensive cancer and disease prevention program to keep their Golden healthy for life!
We have a 99.9% cancer-free rate with families following my Proprietary Protocol. !
Beautiful healthy upcoming puppies are available for reservation to qualified families .
If interested in reserving a puppy, please take the time
to fill out the "Contact Us" form located on my home page.
Pictures of Maximus below
---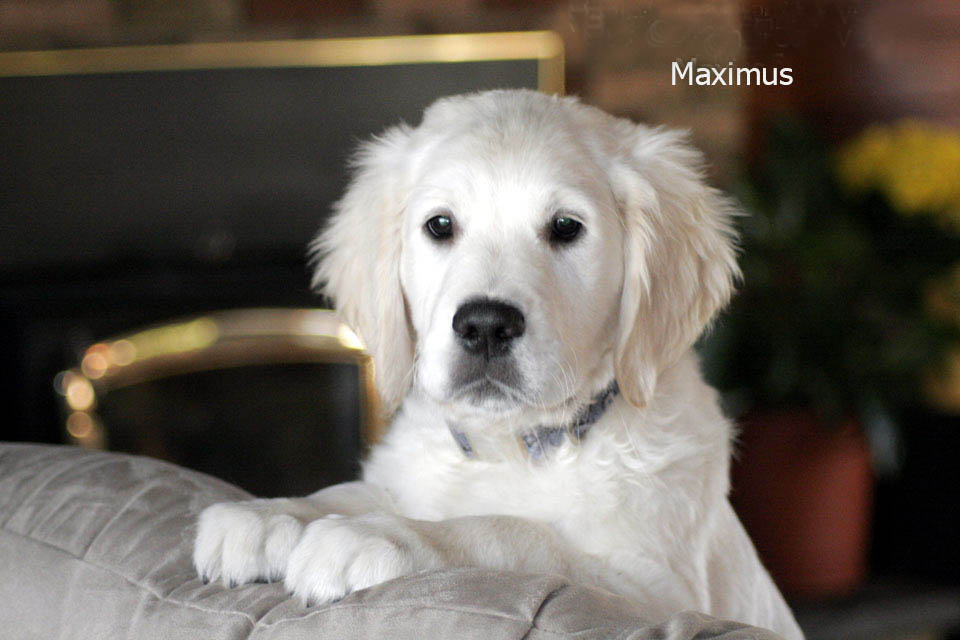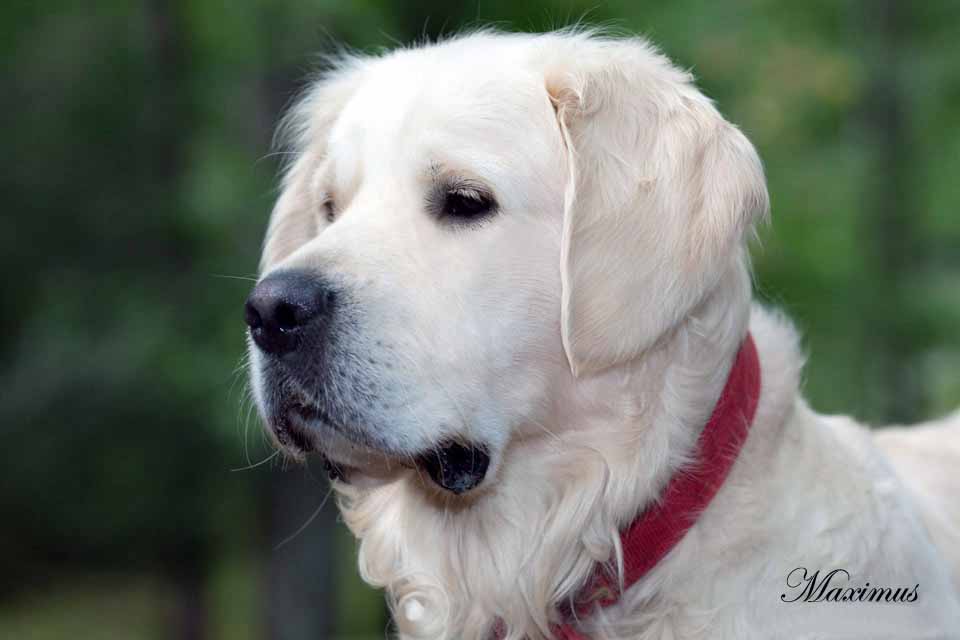 People fall in love with Maximus very quickly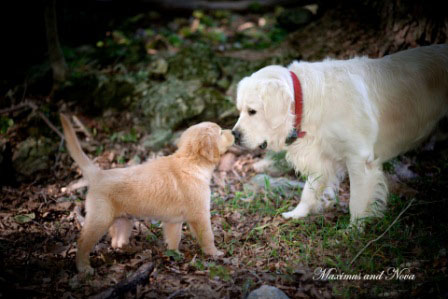 Kukla's past Male Puppy- Maximus is so gentle with a Ginger and Kukla's puppy. He approaches a baby the same way.
The puppy shown is no relation to Maximus
Maximus's Dad is a top tier. His Championship Linage Goes back to "Dew Mist Kennels"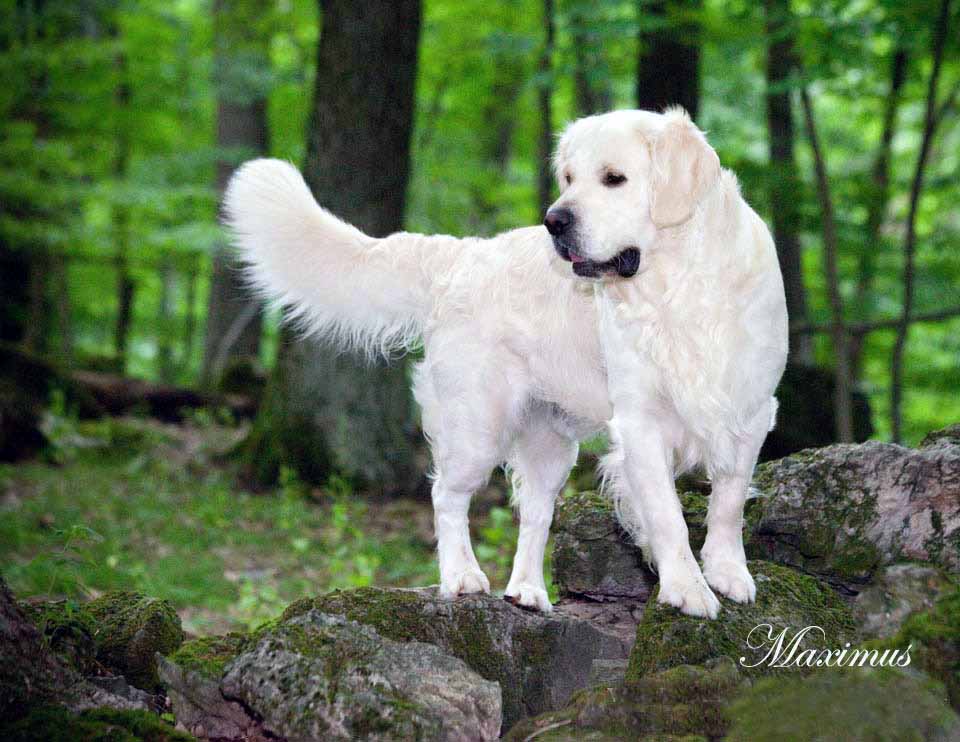 . The sedimentary rock formation in my back yard Maximus
is standing on had been left over from the middle of Paleozoic age between 400 and 540 million years ago.
Maximus looks so stunning standing on these ancient rocks. Some people have told me , Maximus's pups are
even more handsome than Maximus.. Lucky are those who reserved early enough to now own a puppy from Maximus.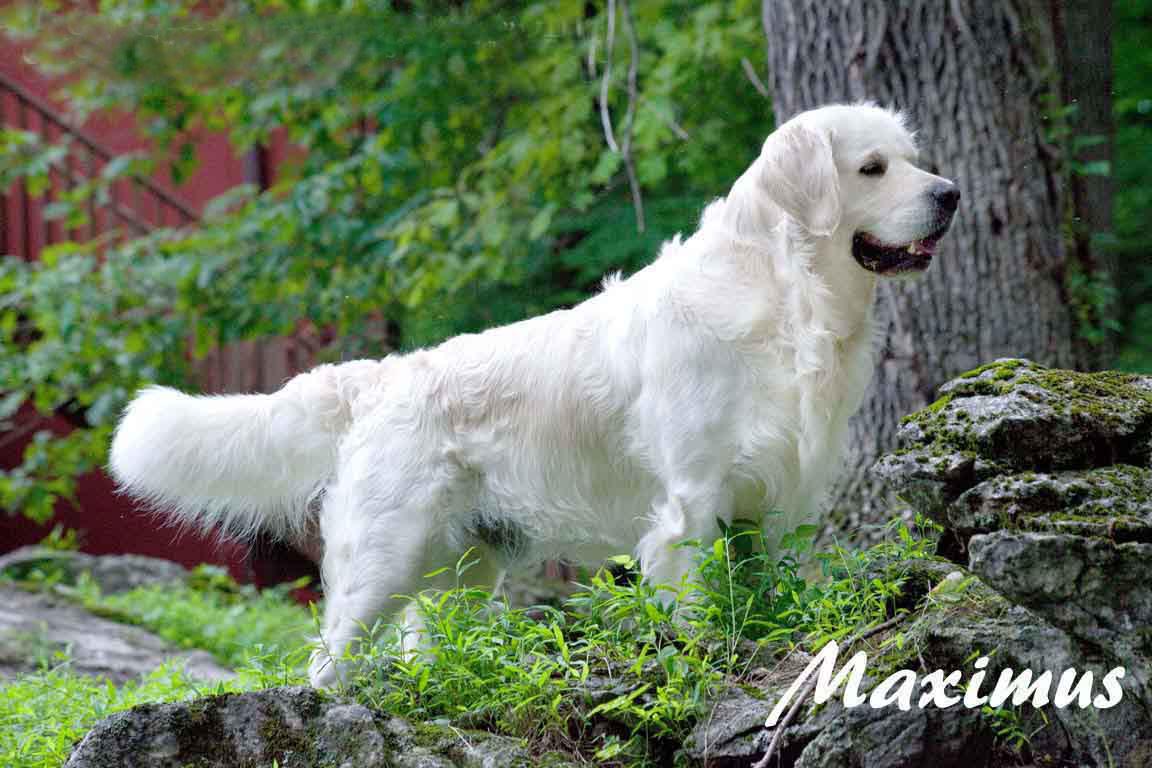 Maximus , our English Cream AKC Golden, has an absolutely beautiful face and such
a gentle personality. A total joy to be with. He is a very affectionate Golden .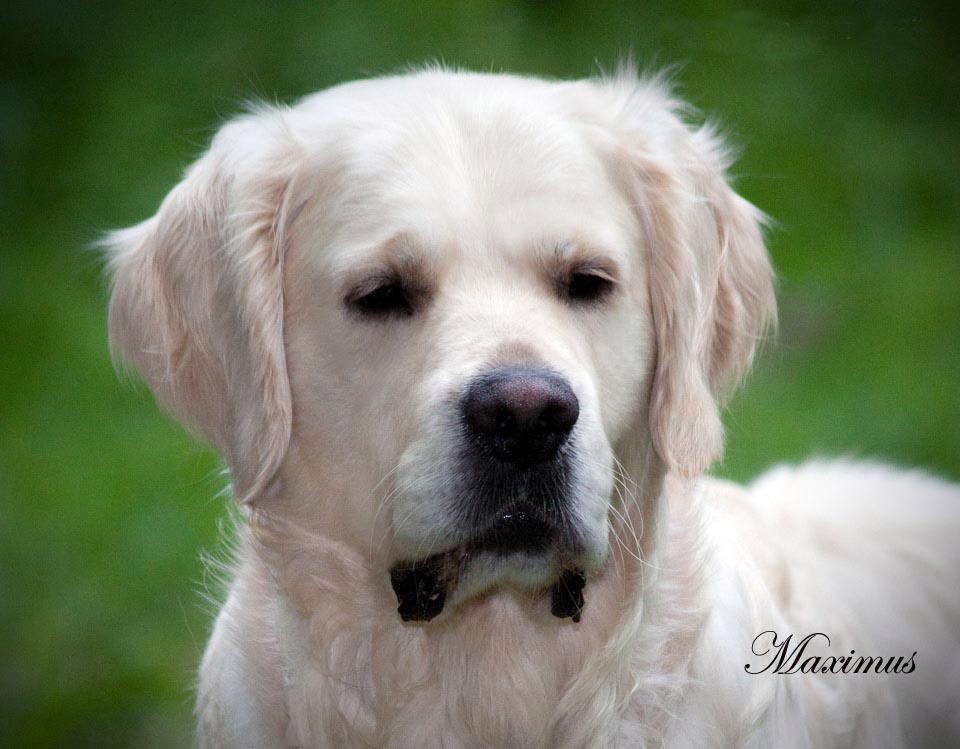 What a handsome face Maximus has --So lovable
All our English Golden's, since they have matured, have considerably more hair and feathering than this older picture shows.
I am so proud to have them. They bring my family and I so much joy. Words can not do justice.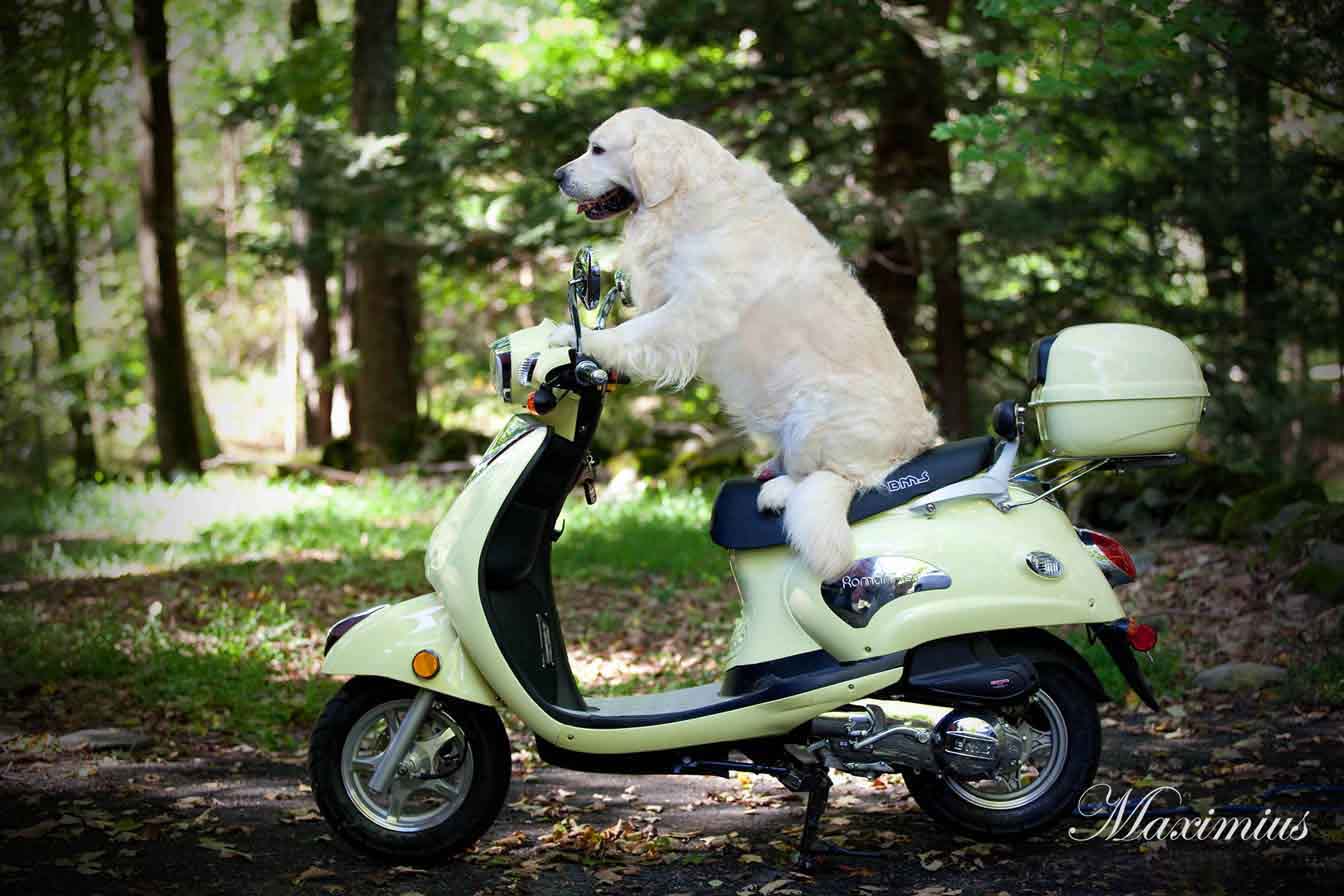 Maximus having fun on a Scooter. He's a joy to be with and if your lucky enough to own a puppy from Maximus, you will see what I mean. I just can not say enough about Maximus. Plan Ahead for one of his pups, reserve early before they sell out! Maximus/Pepper past pups have always sold out early!
If Longevity, personality and looks are important to you, I can only suggest you reserve early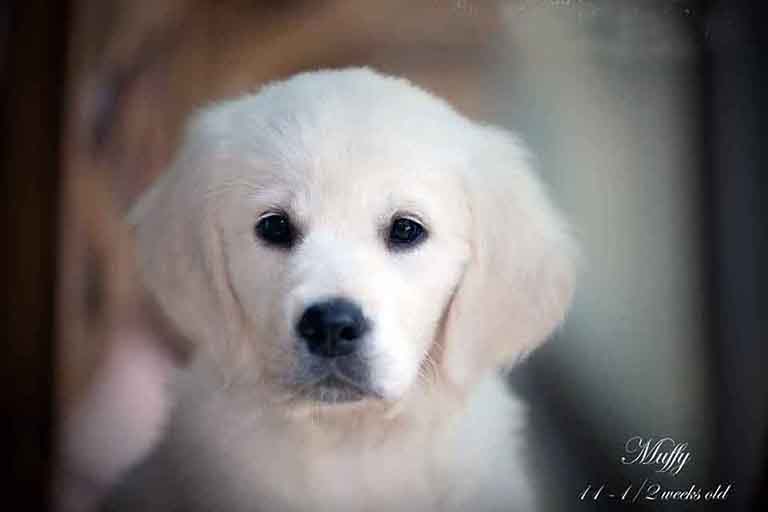 Our Blocky head Muffy is a Maximus and Woofy Puppy
This picture above and below are Maximus's Past puppies and are in part why qualified families plan ahead of being born. Maximus pups are simply breathtaking!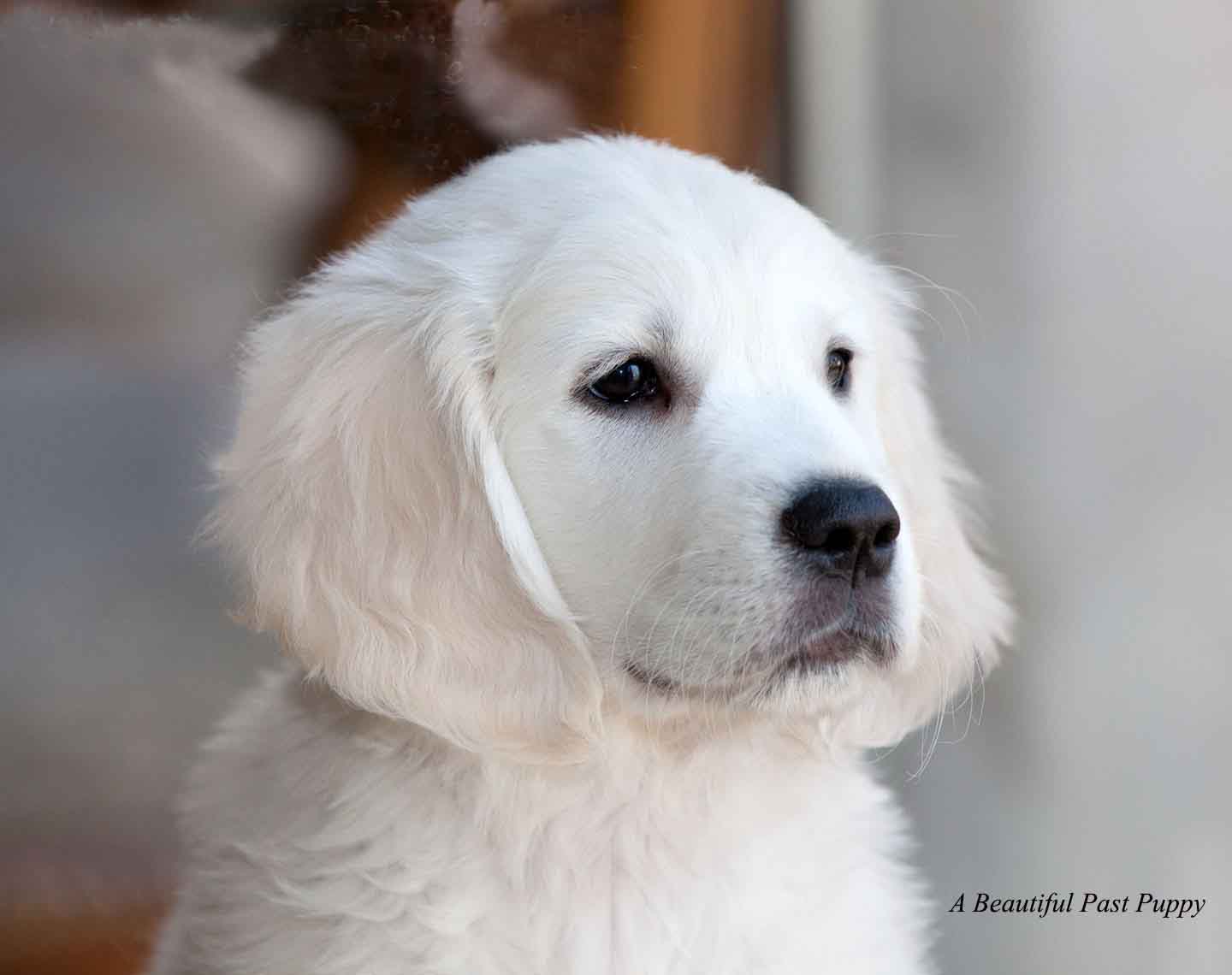 Beautiful Maximus Puppies!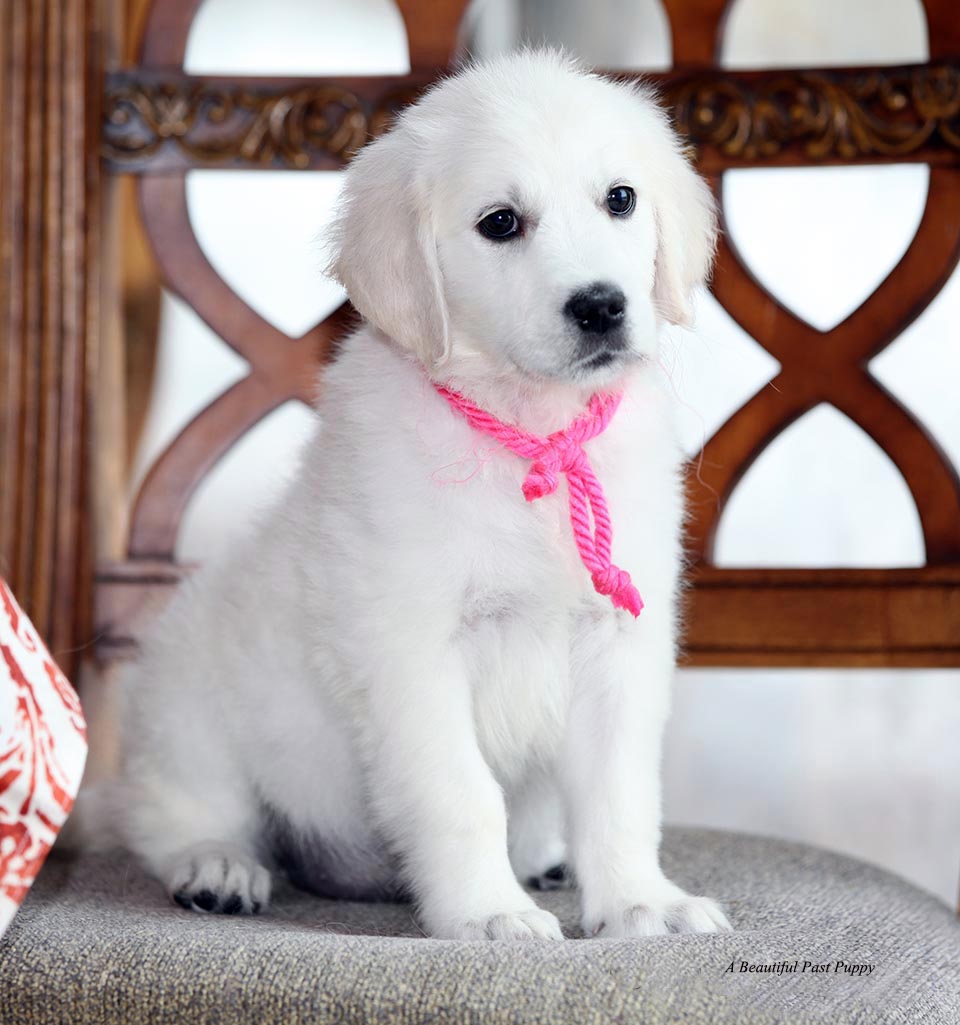 When you want to know what your puppy will look like, look at pictures of the parents
Beautiful Parents = Beautiful Puppies
Those families lucky enough to have a puppy from Maximus (Mother Nature permitting)
will be overjoyed by affection these pups will display.
Those that wait until the last minute to reserve a puppy
may find there are no puppies left to go around when they are born. Plan ahead!
If you would like to reserve a Maximus or a Kukla/Muffy Puppy ,
fill out the "Contact Us" form on the home page and indicate
that in the comments section. A deposit will be required to reserve a puppy.
First come first serve.
Please note: All planned litters are subject to Mother Nature and cannot be guaranteed
Read what our lucky owners have to say
---------------------------------------------------------------------------------------------------------------------
Longevity
An elderly woman called me recently and told me her Golden Retriever just passed away at 25 years old.
I gave her my condolences and asked her what she attributed her Golden's long life to.
After speaking with her at length, I realized that she understood what it takes to achieve longevity in Golden's.
All our new puppy owners will learn how to achieve a long life
New owners should not have to accept their beloved Golden Retriever will be doomed statistically to die young
73% of the time between 3 and 10 years old!
I will teach every new owner with three proprietary lessons (via e-mail) how
to achieve a much, much greater life span ..
You will learn how to give your puppy a fighting chance to live into their 20's.
I want our puppy, we provide to you, to live a full and happy life and not a life that is cut in half with the number one killer in canines, cancer!
Cancer and disease results in emotional heartbreak and huge Vet bills often far exceeding
the cost of one of our puppies. I will teach you how to achieve Longevity! That's my promise to you.
Feel free to ask me why our puppies have no parasites when born,
no hip dysplasia, no eye, heart and lung or joint issues . Ask me why we have no runts in any of our litters!
---
All families lucky enough to have planed ahead and reserved a puppy early,
will be taught how to keep their Golden healthy for life.
**All our new owners will receive a second to none,
proprietary and comprehensive cancer and disease prevention education program
starting when I receive a deposit to hold a puppy .
I have spent the last 27 years researching this subject.
Cancer is of real concern to me and should be to you as well.
New owners who follow what I teach them. have had a game changing 0% cancer rate with
our Golden's in 19 years of consciences breeding.
This is no accident and in no way a stroke of luck. This is the real deal.
All owners following my exclusive proprietary protocol may have the same results
providing you implement what you will learn when owning a puppy from one of our gorgeous litters.
We have a responsibility to all our puppies and owners.
We want each of our puppies to have a great home with their new owners
that are willing to learn what it takes for their puppy to have a much longer
than normal lifespan without cancer and disease.
Our Puppies are and will always be our utmost concern.
----------------------------------------------------------
A Few Maximus Puppy Testimonials:
A Pepper and Maximus puppy Review:
LOL this is so funny. You've seen pictures of Cooper on my lap in the office. LOL He's still climbing up on my lap today but its getting harder for him as he is so big. LOL But after sticking to it for over 8 mins he finally got all of himself on my lap on my desk Chair like before. I love him so much every minute of every day. He is by my side nearly every minute of every day. His head is starting to block up and he is so handsome. I think he really loves me too. I feel it so much. He is never to far from me.

There are times he gets a certain look on his face an raises his ears squaring of his head and I look at him and my mind says "God he's beautiful" He is so loving and loves his Siberian Husky brother.
OH MY GOD HIS HAIR IS SO SOFT! IT'S LIKE SILK. IN 11 GOLDENS in my life time, I'VE NEVER FELT SUCH SILKY HAIR. When I reach down at the petting station next to my bed at night when the lights are out I know by touch if Cooper is there or not.

Lynn Guthrie
Retired Film Producer
California
Layla is amazing ... Kind ... Loving ... Gentle ... Smart ... Well behaved ... Eager to learn!
Our trainer (Steve D.), who is a very experienced and well regarded trainer (he's often an expert witness in dog-related cases and has been interviewed about dog training on TV many times) thinks that she is extraordinary! He is really impressed with her and her disposition.
He told me that he may want your contact information.
I'll keep you updated and I'll send some pictures soon.
Thanks again!!
Randy
----------------------------------------------------------------
"She's as sweet as she is gorgeous! What a personality, reminds me of her daddy Max! She's mastered her hug, and her kisses...Our little "kissing bandit"..We love her so....
Thank you so very much! "
Tara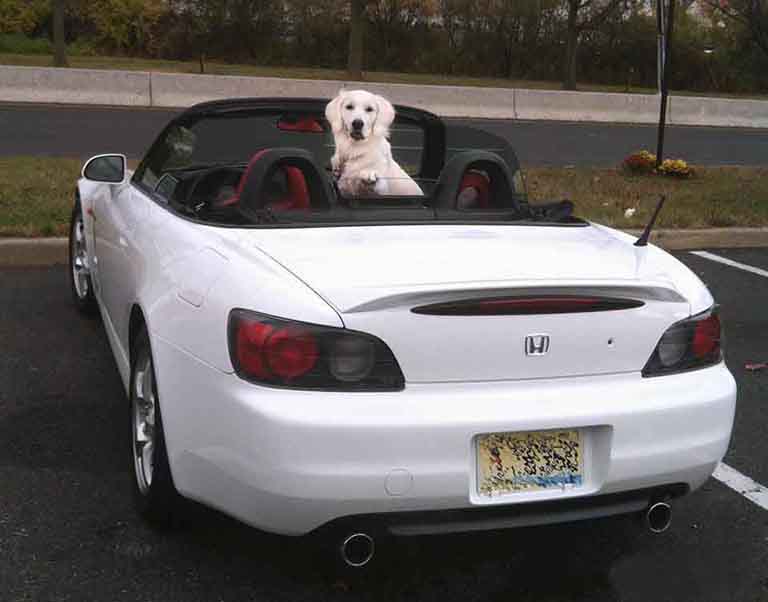 A Maximus Past Puppy.. Look at those beautiful long ears!