Meet Our Beautiful "Muffy"
Muffy's Great, Great Grandfather Was Canadian Champion
From "Dew Mist Kennels" in Sweden
Her Granddad Was a Top Tier therapy English Cream Golden Retriever
Muffy's Dad is Our Handsome Maximus
If you have a pet and want to help Avoid Cancer see my Health Page
A description about Muffy's personality.
Our sweet healthy Blocky head Muffy (Maximus's daughter, Fluffy's sister) possesses the love for me that only dog lover's dreams are made of. Please don't get me wrong, all Golden's are wonderful and that is what makes them so special to own. I believe, based on my 67 years of experience with many different breeds, all Golden's and other breeds are given different gifts when they are born. With Muffy, I have never known a female or male Golden that before you go to bed , races ahead of you, jumps on the mattress and stands on her hind legs, puts her paws on my shoulders and her head close to my neck and licks me. It is as if Muffy is saying "I love you Daddy your so good to me" "Can I share your pillow before Mom comes to bed?" Well how can I resist! Muffy is the kind of Golden that loves to be close to me. Without hesitation, after the big mutual hugs, she darts to my pillow, lays down with her head resting square on the side of my pillow waiting for me to get settled in. When I finally get comfortable, Muffy will take her head and move it between my cheek and my shoulders and fall asleep with her paw resting over my arm.. I can feel the softness of her fur and her gentile breathing as I drift off to sleep. What a friend I have in Muffy. She is the daughter I never had. I can just imagine what her puppies will be like. I am Glad I have such an understanding wife or I might be in trouble..LOL Muffy was the First pick of a Maximus Woofy litter. This kind of affection started since she was 6 weeks old and has continued every night and has become a ritual. During the day , Muffy listens to everything I ask of her to do. She stays very close to me during the day when she is not playing with her Mother Woofy or Pepper which has become her best dog friends. If you are a devout dog lover like me, who could ask for more? Her Puppies will take on the traits of her Mom and Dad. Muffy is the offspring of Woofy and Maximus. Woofy is Now retired. Anyone lucky enough to have Muffy Puppy will be very happy.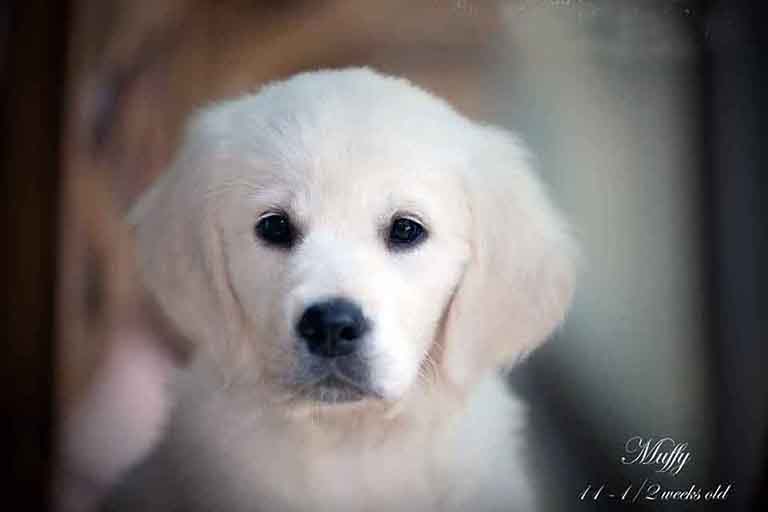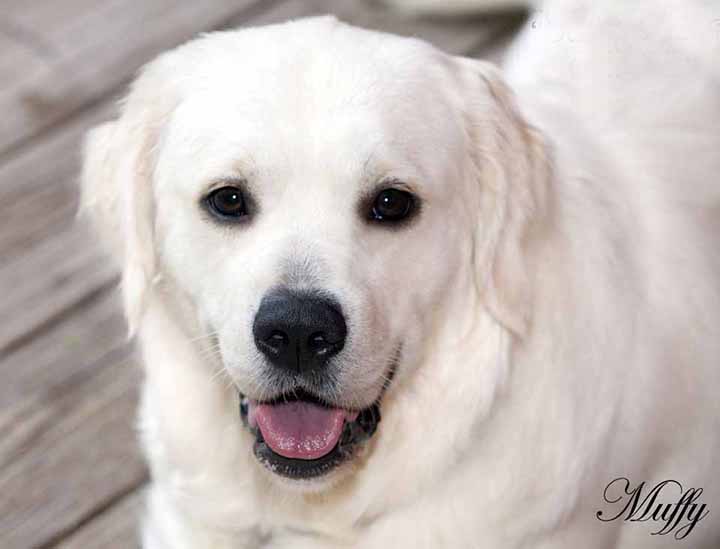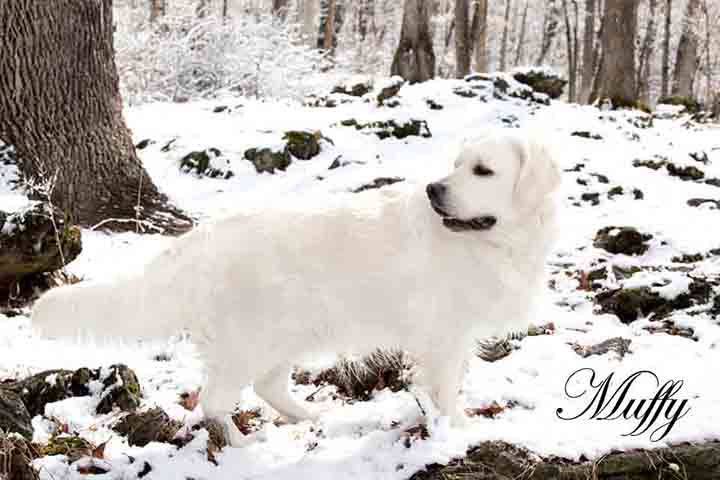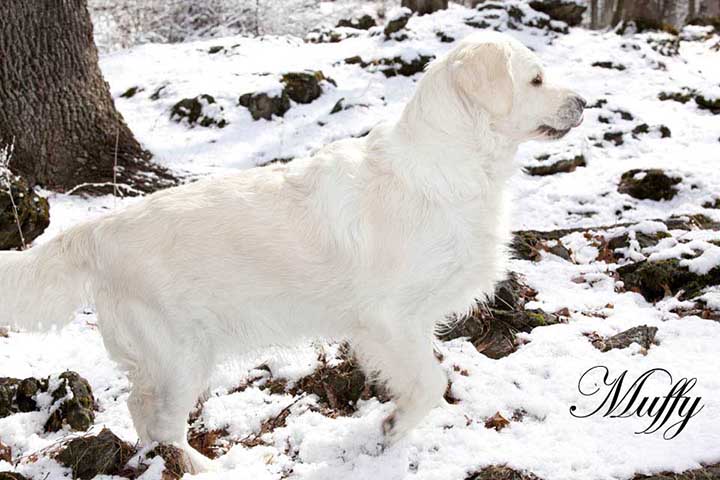 Our Boxy Head sweet English cream golden we named "Muffy"
I am currently taking Reservations from qualified families for Kukla and Muffy for 2018 Dec breeding
-----------------
------------------------------------
------------------------------------------------
**All our new owners will receive a second to none, proprietary and comprehensive cancer and disease prevention education program starting when I receive a deposit to hold a puppy . I have spent the last 27 years researching this subject. Cancer is of great concern to me and should be to you as well. When new owners follow my protocol you will be giving your puppy a fighting chance to live into their 20's . We have been a consciences breeder of beautiful, healthy Golden's for 17 years. I bring a wealth of knowledge to help you have your puppy live a healthy normal long life. This is no accident and in no way a stroke of luck. This is the real deal. All owners, following my exclusive proprietary protocol, may have the same results we have experienced providing you implement what you will learn from me when owning a puppy from one of our litters. We have a responsibility to all our puppies and owners. We want each of our puppies to have a great home with new owners that are willing to learn what it takes for their puppy to have a much longer than normal lifespan without cancer and disease.
1) My Primary concern is the health and well being of all our puppies not just when you receive your puppy but for your puppy's entire future as well. . I have a huge responsibility to each and every puppy I place in new homes. They cannot defend nor speak for themselves. To help create a long life for your golden Retriever, you must understand what to do for them each and every day. To achieve longevity in a Golden Retriever, it must be learned. It has nothing to do with Color or being an English Cream Golden or an American Golden Retriever. All new owners will be taught Longevity BEFORE your receive your puppy. Creating a long life for our puppies is not a stoke of good luck. A long lifespan must be learned period. As a specialized breeder in longevity, cancer and disease, I will teach all new owners, prior to receiving a puppy, exactly what to do and what not to do for the puppy you purchase from me to achieve a much, much longer lifespan. I strive for excellent health and longevity with all our Goldens and their offspring. ... Finding the right owners who feel the same as me is of primary importance both for me and our for our puppies.
2) By mating certain personality and beauty traits, I have found their puppies can often have better personalities with even better looks then their parents.
3) Beauty is important as well and has very little to do with hair color or health. Kukla is one handsome Majestic looking English Cream Golden Retriever male and Muffy is absolutely stunning as well. However, without good health, the beauty will fade fast. I will teach all new owners how to achieve good health and Longevity giving your puppy a fighting chance to live into their 20's. I have a Lifetime telephone support and many, many happy owners in over 18 years of breeding. Read what owners have to say
***Most of our stunning litters are sold out before the puppies are born ,
I suggest strongly , If you want to own a puppy from any of our upcoming litters,
you should reserve very early.
Please go to my "Contact Us" on my home page to be considered