CuteGoldenPups.com

Reviews and Testimonials From Owners

We would like to thank the individuals and families who have taken the time to send us their testimonials and pictures as well. We take much pride and give total love and devotion to our Golden's and truly enjoy your pictures and comments.

----------------------------------------------------------------------------------

"In my two year search for an English Golden I selected Cutegoldenpups.com. Ted's approach to caring for his puppies is beyond any breeder I have found. I was amazed at the information that is provided on his website. Ted offers a wealth of knowledge online and personally. I was impressed by his screening of potential buyers for his pups. Ted keeps you informed as the process progresses. When the selected Dam/Sire goes in heat, to the time the first puppy is born. He provides you with links to read , recommends a book to read that will support your knowledge with the Holistic approach in raising a healthy puppy thru adulthood. Ted was generous with his knowledge in helping me with my 13 year old Golden Dewlee by recommending NuVet Plus products, which made a

huge

difference in his overall health.

Ted and his wife Thitapon are dedicated breeders and invest countless hours in the puppies well being. When we arrived to pick out our puppy, we found the pups to be stunning in looks and their demeanor was outstanding. The puppies are well socialized and next to impossible to pick! I was impressed at Ted's schedule for viewing the puppies, with time for the puppies to nap before the next viewing. This demonstrates, that his puppies well being are his only concern. Throughout the entire process, Ted is responsive to each and every question you may have if the Holistic approach is new to you. He advises you on what to expect on your first Veterinarian visit, answers any questions you may have. Ted and Thitapon are dedicated breeders, they will welcome you into their home when it comes time to pick out your puppy and assist you in picking from the most flawless litter of puppies I have ever had the opportunity to choose from. I have had the joy of owning 5 English Golden's, this by far has been the most educational, interactive and amazing journey. Bozlee will arrive this week, and I am confident that Ted will assist me with any questions I will have along the way. I highly recommend Ted and Thitapon as the Breeder of Choice for your Golden, you will not be disappointed! "

5 STARS PLUS

Marilyn and Bill

--------------------------------------------------------------------------------------

"Dear Ted and Thitapon,


I am not even sure how to begin writing this email, because I can't find the right words to express my gratitude to you both for allowing my family to raise one of your puppies. Tayler has been with us for over 3 months now and she is more then we could ever have hoped for in a new family member.

After my last 2 American Goldens died this winter from cancer, my husband and I began looking at other breeds in order to avoid getting our hearts ripped out again by the "Golden cancer curse". We read up on all large breed dogs and inevitably decided another Golden Retriever was the only right fit for our family. That being said, we decided to change it up a little and go for an English Golden this time and to spend more time trying to find a breeder with a similar philosophy to good health as we have for our own human children. That is when we stumbled upon your website. Everything you spoke of regarding high immune system and low toxins spoke to me, and I felt we had hit the jackpot in breeders.

By the time we found you, we were able to secure 4th pick male or 1st pick female of Woofy's upcoming litter. I told you I was hesitant to get another female, because my first female dog was hyper until her final breath at 10.5 years old. You told me that Goldens should not be hyper dogs if bred well and so in order to get the first pick of Woofy's litter, we decided to take your word for it and go for another female. I am beyond happy to report that at almost 5 months old, Tayler is AMAZING!!! She is ridiculously sweet and as calm as any puppy I have ever seen. People cannot believe how old she is when I tell them she isn't even 5 months yet. She has made me look like the dog whisperer! While I have worked with her a lot on training and socialization, I can't even take the credit, because it really is who she is innately as a puppy. She behaves like a mature middle aged dog. My husband and I keep waiting for the day when she starts jumping and acting looney, yet in my heart I know that isn't going to happen.

Not only is Tayler calm, she is also extremely intelligent and has been a breeze to train thus far. She has slept through the the night since the first week we got her and picked up on the sit and down commands quickly. Would you believe that we can already put a very enticing treat between her 2 front paws and she will successfully "leave it" until she hears her release words "that'll do"? It is VERY impressive! She has also learned that she may only come on the couch when invited. In the evening when my kids go to sleep and I sit on the couch to relax, she comes up to me, sits quietly and looks at me with those puppy dog eyes. She is clearly asking, "May I come snuggle?" Of course I almost always invite her up, but if I tell her no, she lies down on the floor and does not ask again.

Tayler's personality is not the only jaw dropping characteristic about her. Her beauty is also astounding. Everyone who meets her refers to her as the "calendar puppy". Her sweet face matches her wonderful temperament and I now KNOW we hit the jackpot in breeders.

From the bottom of my heart, I thank you for helping to mend our family after the loss of Marley and Taj by blessing us with Tayler Jam. She is EVERYTHING we hoped for in a puppy and a whole lot more.

Enjoy the pics,
Emily and family"

------------------------------------------------

Hello Ted,




Thank you for sending us this information. We absolutely love Mia. She is everything you promised. She has the best personality, so sweet and mellow. And she is absolutely beautiful.




Michelle

______________________________________

Ted

She's just a joy. She really is the most beautiful dog I've ever seen. My father is in awe of her. All my neighbors can't wait for a meeting with her, I've been so very careful so as to not expose her to anything that may be detrimental to her health until 16 weeks. The kids adore her, as does Steve. She is a barker, and we are trying to get that and the potty training all together. She's still so young, but everyday she's learning so very much…this puppy is intelligent! She's already fetching, and walking on the leash.

She is as sweet as she is beautiful, she always rolls over for her belly rub, and a few kisses in the morning. Very hungry, and the vet said this is completely normal, we have just started adding a spoon of yogurt to one meal, as well as a raw component for her lunch meal. We are extremely aware of feeding too much.. she loves everyone, even our cat! Love her to pieces, thank so much for letting Bella be a part of our family…There is never a shortage of love…Thank you both so very much! She has really blessed this home with her special brand of love, and intelligence! I'll have more photos soon! J

Tara


---------------------------------

Dear Ted and Thitapon –

Sorry it has taken so long for us to contact you and like many others, it has been very hard to find the words to express how happy we are with Ortley and how significantly our lives have changed by having him in them. His sweet face and bubbly personality brightens every day and everyone who meets him immediately falls in love.

Ortley is almost 9 months old now and we continue to be amazed at how happy, well natured, loving and intelligent he is. He was a breeze to train with our Invisible Fence and has NEVER had an accident in the house. Even as a very small puppy, he seemed to instinctively know where to go. He has never met an animal (dog, cat, or deer) that he didn't like or try to befriend.

Thanks to your pet care education and guidance, Ortley is doing great and we can't thank you enough. We look forward to keeping up with Woofy and Max and based on this experience, may be reaching out to you again to add a playmate and another member to our family.

Michael, Karin, Ashley, Ethan and Ortley

----------------------------------------

It has been a long time since I sent you a picture of the new love of my life!!!!!!! Bo is the best, sweetest, happiest, calmest most playful pup EVER!!!!!! His personality is getting better EVERY DAY!!!!!! He and Dottie the Bulldog sleep like this and I soon need to get them a bigger bed....they play from the moment they wake up to the moment they go to bed with few big naps in between!!!! They are just a great duo!!! I think of you every day and I am grateful that we found you.....he is just perfect!!!! He is all trained on invisible fence already and passed his 14 day training session with flying colors.....his favorite trick is PAW for a treat!!!! He is is just a delight!!!! When I see him in the morning he gets out of Dotties bed and i sit with him on the floor and he climbs into my lap and just snuggles with a smile on his face!!!!

xo Katie and Bo!

----------------------------------------------------------------------

OMG......we feel as if we are blessed with the most wonderful puppy EVER......he is so SWEET, so HAPPY and so confident......he certainly is already family dog!!!! He loves all the kids and he LOVES our bulldog.....they go out for pee trips side by side.....he is doing great....only one wee on a towel inside but it was my fault as I wasn't opening the door fast enough...other then that i take him out often enough that he does all his business in the grass....230 am, 430 am, 7am.....i feel like there is a newborn in the house but this this little tiny sweet stage passes so fast so i am secretly enjoying visiting with him in the night! we are so excited to raise him to be like kooklah and and all your other dogs.....they clearly lived in a home filled with love....your puppies show it!!!!!!
Xo Katie and BO

--------------------------------------------------------------------

I want you to know that I went to our local holistic pet store today (5 minutes from our house) and had a LONG talk with the owner....we talked about everything you told me and how I wish someone had done so for me when we got our old Golden.....he thought SO highly of you and wanted your name for his files....he promotes good breeders and would love to recommend you as you are one of the few battling this terrible growing problem with a basic understanding of HIGH IMMUNE SYSTEM and LOW/NO TOXINS and all the ways to do so. John, the owner, swears by NO VACCINES. He agrees that Bella's immune system was doing fine until she was bombarded by her summer vaccines

(we had not taken her to the vet in three years because there was nothing wrong

....

then my "guilt" for what I was made to feel as "neglecting the health of my dog" made me take her in....one month later she was a different dog and three months later she was dead

. MUCH TOO SAD and such a direct link.....whether or not she had the cancer already i will never know but she was doing fine with it if that was the case...

.her immune system got hit and the disease took over

. SO with that said, I kick myself but I was not ever educated....I did what I thought I was supposed to do for the health of my dog. I got the name of a new vet that they love and recommend (Dr. K H, Ct) and I was able to get an apt for Monday morning....he did not approve of the DVM M. F. vet that I had previously booked with. So thank you for trusting us with your Pup....we will not disappoint you!!!!!

xo Katie, Nick and kids!

------------------------------------------------------------------------------

Hi Ted,

Eric and I would like to thank you for a very memorable afternoon. Your dogs are very lovable and sweet, thank you so much for letting us meet them, they are very special. We were very touched and won't forget our visit for a very long time.

After reading the info and also having a golden that received an active distemper shot and eventually died... So I do not want the distemper shot for my new baby boy.

Thanks again so much for our special visit and the great pictures.

sincerely,

Eric and Sonya

----------------------------------------------------------------------------------

Dear Ted,

Just wanted to thank you for allowing us one of Bebe and Hollywood's puppies. Our Chase is doing wonderful and we all adore him, including our other Golden Lily. He is very strong and healthy and has a great personality. Again, thank you and we will keep in touch and send some pics. The Lombardo family

Here is what the family who now has Ollie (Bebe/Hollywood male puppy) has to say about Ollie;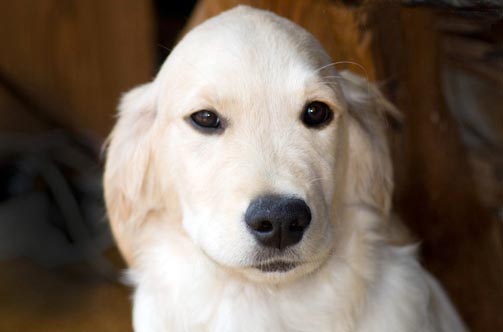 Hi Ted,

"Today Ollie was more playful with Duke and it was encouraging to see Duke respond just as playfully! I do believe that Duke's spirits are better because of Ollie. The right food and supplements will no doubt make the biggest difference. Thank you so much Ted for Ollie. He might not save Duke's life from cancer but your influence will give him more precious quality time and for that I will be forever grateful. Ollie will be the best medicine for me when the time comes and I can tell already he will be there no matter what. Ollie is sweeter than words can describe and he shows a sense of loyalty already. My daughter could not believe how he comes when I call his name. Sits when I command sit. Stays when I say stay. Pretty awesome I must say and Ollie is VERY attentive to perfection!"

Well Ollie says it is time to smell the roses!
Tell your wife hello and I know she will want to see the photos of his new home.

P.S. Russ found a great Organic Food Source only 5 minutes from us!!! He's been there and Ollie can attest the food is the best!

Paw Hugs!
Love, Ollie
--------------------------------------------------------------------------------------------------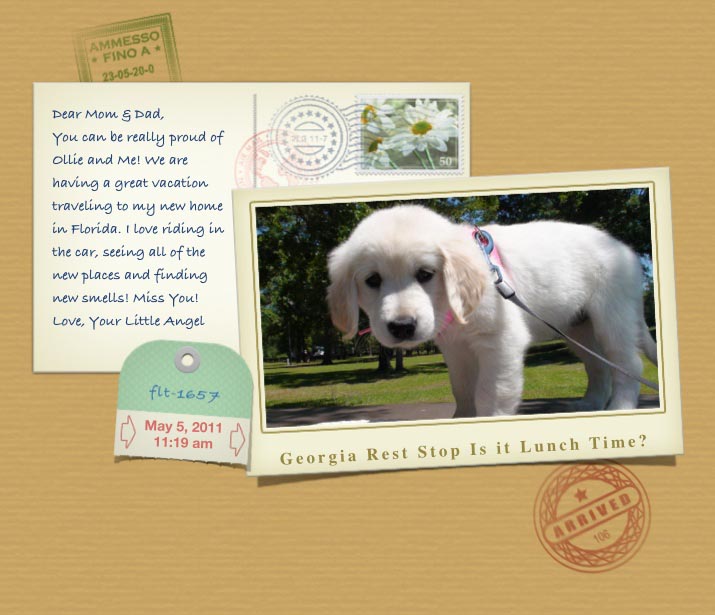 ----------------------------------------------------------------------------
Thanks for the picture! Phoebe is doing great. She is a happy and very healthy girl. Very spunky but not crazy and super loving and affectionate. She is just a sweetheart. My mom has been sick and battling cancer and Phoebe has cuddled up to her many of days and made her smile. Phoebe loves her grandma, her whole body wags when she sees her not just her tail ! She is beautiful. Thanks so much!
Hope all is well with your family. Say hello to your wife for us.
Natalie

---------------------------------------------------------------------------------------
Good Afternoon Ted,

Thank you so much Ted for keeping in touch and helping me through the grieving process when Duke got his golden wings and joined his long-term friend of 11 years Duchess March 30, 2010. Ollie was a true blessing and kept our family whole even though it was hard on him too losing Duke the only golden to share his home. Now it is our turn to make Ollie's world whole again. Soon Ollie will be joined with a female puppy from his parents, the best parents a pup could have, Hollywood & BeBe.

Who knows, you may have a litter born to honor Duke born on his birthday July 14th.
I fell in love with Hollywood from a photo but there is so much more to him than meets the eye! He's the best!
I know you told me that BeBe has the sweetest puppies. I really had no idea how really sweet Ollie would turn out to be!

Lots of Paw Hugs Coming to You and the Wife!

Russ & Shirley
Ollie & ?


Ollie's Parents above
----------------------------------------------------------------------------------------------------
Hi Ted,

I wanted to confirm receipt of your PUPPY/ADULT NOTES including the dangers of Vaccines. Very well written Ted. I just finished it and Russ is reading it now. What a privilege to have this inside information after living with two beloved golden retrievers passing due to cancer. Duchess passed with cancer of the spleen, which was a sudden death without our knowledge that she had cancer at age 11 1/2 years old. Duke had transitional carcinoma cancer diagnosed in June 2009 passing at 11 1/2 years old March 2010. I hope your pet owners take this seriously Ted because it is not just a theory on paper. I agree that following these PUPPY/ADULT NOTES will greatly influence our golden pup's years. You know Ted that I can attest to the changes I made as a pet owner in order to give Ollie the quality of life that he deserves.


Thanks,
Shirley and Russ
---------------------------------------------------------------------------------------
Ollie's Sister Lexi with Jennifer and Mathew
Hi Ted,

Thanks again for watching Lexi for us. It was so obvious what a fantastic time she had.. She had a vacation of her own!!! It makes me feel so good to know she was taken such good care of. She is everything to us and it made the vacation so much better knowing she was having the time of her life! Thank you for the pictures. they are fabulous. Can't wait to have them developed and put them in frames. Thank you!!! Thank you!!! Thank you!!!

Jennifer

PS..we may have to go away more often....Lexi misses everyone already!
----------------------------------------------------------------------------------------------------------------------------------------------------------
A Ginger/Hollywood puppy (Ginger is retired)
------------------------------------------------------------------------------------------------------------------------------------
Hi Ted,
Been meaning to drop you a line for awhile now, but have been so busy around here. We moved to Long Island about a month ago and am trying to get settled in here. Also, lost my camera along the way and had to go out a get a new one and figure out how to download them so I can send pictures of our Ollie to you.
I can't tell you how great she is. She is so well behaved and full of energy, but not too crazy. She is absolutely beautiful, we are very proud to say and everyone that sees her is blown away. We found a holistic vet over here so everything is well in that area. Ollie is just over 4 months old now and weighs 42 pounds. She is growing in leaps and bounds. Her diet is really good and she is as healthy as ever. He gave us a flea and tic spray (natural--I believe it is Quantam) to put on her coat and we have just started doing that since we found 2 tics on her just this past week. I am going to put down the diatomaceous earth on our lawn also.
Hope all is well with you and your family. We can't thank you enough for giving us one of your puppies. We love her dearly.
Pictures attached.
Thanks, we'll keep in touch.
Claudia & Joe
------------------------------------------------------------------------------------------------------------------------------------------
Ted,

Hello from Long Island and sorry it's been so long since I was in touch. We've been busy as I'm sure you have. Ollie is doing just wonderful. She is absolutely the most beautiful doggie and we love her so much. Her personality couldn't be better. She is quiet, loving just wants to be by your side which is exactly what we love. She gets very excited when people come, goes and retrieves one of her many toys and brings it to them just to show not to take. She loves to run which we let her do everyday and sometimes twice on the weekend when we have more time. She's in great shape, just about 66 pounds. Still no shots and she takes her vitamins everyday. She is still eating the Chicken soup for the soul food and I make her her treats so I know what ingredients are in them. We couldn't ask for a better companion. She is so loving. Her favorite spot is on Joe's lap on that chair.
---
Thanks to Susan S. for her nice comments
Hi Ted, Hope all is well !. I now know the reason no one sends you pix.....they are all to busy with their puppies!!! Our Samantha is a sweet girl with a lovely temperament and lots of energy. We adore her! She is happy and healthy and LOVES the beach. I can see Hollywood and Woofy in her! Susan
---
"Hi Ted!
Sorry for just now getting back to you! Thank you so much for the pics! We are absolutely loving our new baby "Izzie"..she is such a happy and fun loving puppy! I think she feels like a princess most days as she get SO much attention! Needless to say, my children adore her!! She is spoiled rotten!!
I gave your info to a friend of mine who may contact you about potentially buying a puppy. Her name is Julie ..she may have already called you!
I am attaching a couple of pics of Izzie...thank you so much for such a special puppy!
Hi Ted,

Thank you for the updated puppy-adult notes. Lexi is doing great! She is such a loving and sweet puppy. She is healthy and happy and is such a wonderful addition to our family! She does everything with us. She even has a special place she likes to sleep at night curled up on the pillow next to mine!!! We absolutely love her!! Hope you and your family have a very Happy Thanksgiving!

Jennifer
---
"Hi Ted

Thank you for the picture. Lacey is doing great! My two Golden's, Sadie and Allie are so good with her. They seem to know she is a baby, so gentle with her.

She is fitting in just fine. She is especially fond of my son Ryan, he is spending a lot of time with her, training and watching over her. We'll keep in touch and
send you pictures so you can see how she is doing. Thanks and take care."

Kathy & Dave

---
Hi Ted,
Just wanted to fill you in on how great the puppy is doing. Her trip home was wonderful. she didn't get car sick at all. She absolutely LOVES Matthew and he absolutely LOVES her! We named her "Lexi". Her first vet visit went great...NO VACCINATIONS!!! She's in great health.
Thanks so much for blessing us with the perfect addition to our family!
Jennifer

---
Hi Ted,

How are you? We wanted to let you know that Lacey is doing great and growing beautifully! We get lots of compliments on how pretty she is with those long beautiful lashes. She is so smart, sweet and loving. We just love her! She has also taken to our Sadie and Allie, they love her too! Its great having the three of them.
I'm sending along a couple of pictures of her. Thanks again!

Kathy and Dave
---
(A Bebe and Hollywood Male puppy 2 years old)
Hi Ted,
All is well, hope the same with your family too.
Today is Bear's (a.k.a. Shooter) 2nd birthday party! It wasn't long after arriving home we changed the name to Bear giving him his own individuality.
Bear is almost fully grown now and provides so much love to the family.
Thanks Ted. The Waterson Family
"Bear" --What a handsome Golden he is turning out to be! If Bear follows his dad Hollywood, he will get his full coat at 3 years old.
---
Hi Ted....How's everything? Lacey is doing great! She's so beautiful! She is such a sweetheart! She sleeps beside me every night and in the morning
she gets up in the bed and puts her nose right on my cheek and is so happy! Hope all is well with you and your family.

Take Care,

Kathy & Dave
---
Hi Ted
Just wanted to send you a pic of Phoebe, 18+ months and doing great ! She is a wonderful and beautiful golden. Hope you had a wonderful holiday season & I wish you and your family all the best for 2011.
Natalie S.